Accuracy wall sickness of hot-deformed pipes statistical analysis
Keywords:
STATISTICAL PROCESSING, PIPE WALL THICKNESS IN THE CROSS SECTION, PIPE ENDS
Abstract
The technological process of seamless pipes production, has many stages. Each stage significantly affects the accuracy of the geometric dimensions of the pipes. One of the main parameters characterizing the accuracy of the pipes is their transverse difference namely the size and the nature of the distribution of the pipe wall thickness in the cross section. Different pipe wall thickness makes it difficult to get quality pipe screw-thread.
The use of statistical data processing methods makes it possible to predict the seamless pipe difference indicator. A statistical analysis of the wall thickness indicator of the end sections showed a high ratio of wall thickness symmetry. An effective way to minimize the symmetric difference component is to optimize the deformation modes along the pipe wall.
References
Stoletniy M.F. Tochnost trub / M.F. Stoletniy, E.D. Klempert. – M.: Metallurgiya, 1975. – 240s.
Drozhzha P. V. Statystychne doslidzhennia velychyny riznostinnosti trub, prokatanykh na bezperervnomu stani/ P. V. Drozhzha, S. V. Pylypenko // XI Mizhnarodna naukovo-praktychna konferentsiia «Plastychna deformatsiia metaliv». NMetAU. – Dnipro, 2017. – S. 26.
Sokurenko V. P. Doslidzhennia alhorytmu zminy poperechnoi riznostinnosti na truboprokatnomu ahrehati z avtomatychnym stanom/ V.P. Sokurenko, P.V. Drozhzha, K.M. Bykovets // Matematychne modeliuvannia: nauk. zhurnal. – DDTU. – Dniprodzerzhynsk, 2017. – № 1(36). – S. 26 – 32.
Gmurman V. E. Teoriya veroyatnostey i matematicheskaya statistika/ V.E. Gmurman. – M.: Metallurgiya, 1977. – 478s.
ARI 5ST. Obsadnyie i nasosno-kompressornyie trubyi. Tehnicheskie usloviya. Devyatoe izdanie., iyul 2011. Data vvedeniya: 1 yanvarya 2012.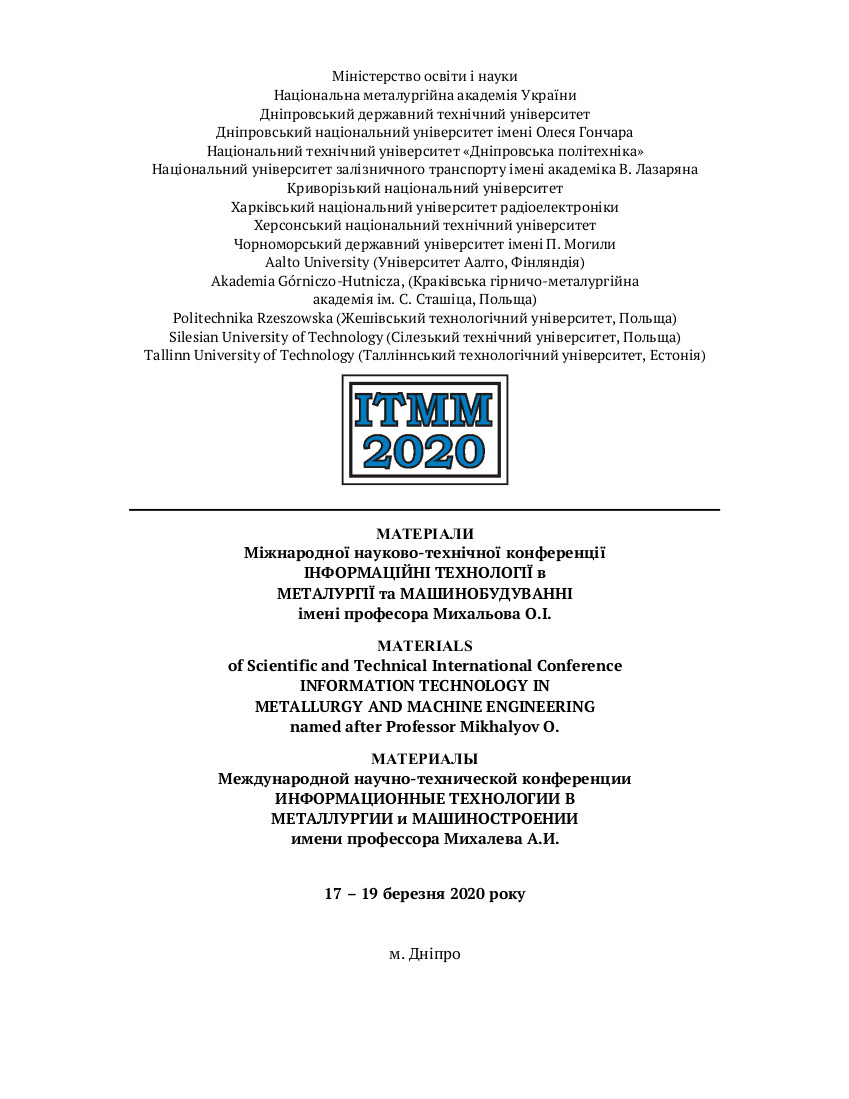 Downloads