МОДЕЛИРОВАНИЕ В СРЕДЕ MathCAD ЗАВИСИМОСТИ РАДИАЦИОННОЙ ЧУВСТВИТЕЛЬНОСТИ ПЛАНАРНЫХ КРЕМНИЕВЫХ npn СТРУКТУР ОТ КОНЦЕНТРАЦИИ ИЗОВАЛЕНТНОЙ ПРИМЕСИ(Ge) И ДОЗЫ α-ОБЛУЧЕНИЯ
Keywords:
РАДИАЦИОННАЯ ЧУВСТВИТЕЛЬНОСТЬ, ИЗОВАЛЕНТНОЕ ЛЕГИРОВАНИЕ, ФЕНОМЕНОЛОГИЧЕСКАЯ МОДЕЛЬ
Abstract
Показано, что влияние уровня изовалентного легирования германием на радиационную стойкость npn структур нелинейно. Существует уровень легирования (NGe2∙1019 см-3), при котором радиационная чувствительность npn структурKh21E существенно возрастает.Получена и визуализирована феноменологическая модель Kh21E = f (NGe, Φα).
References
1. Global Silicon Germanium Materials & Devices Market - Analysis & Forecast 2017-2021. ASDReports.com / ASDMedia BV - Veemkade 356 - 1019HD Amsterdam - The Netherlands. Publish date: April 2018. Report code: ASDR-451107. Pages: 231. [Электронный ресурс] Режим доступа: https://www.asdreports.com/news-28726/global-silicon-germanium-materials-devices-market-anticipated-reach-50453-m-2021
2. Revenue of the silicon germanium materials and devices market worldwide in 2016 and 2021, by end-user (in million U.S. dollars). Сайт statista.[Электронный ресурс] Режим доступа: https://www.statista.com/statistics/911545/global-silicon-germanium-materials-and-devices-market-revenue-by-end-user/
3. D. Bodnar. Semiconductor microelectronics – 2018. "Electronic components", № 1, 2019. pp. 12-17.
4. Kritskaya, T. V., Bytkin, S. V.Perspective semiconductor materials for the using in the power electronics. Bulletin of NTU "KhPI". Series: New solutions in modern technologies. – Kharkiv:NTU"KhPI", 2018, 26(1302), 1, 148-161, doi:10.20998/2413-4295.2018.26.21.
5. Bytkin, S., Kritskaya, T. Silicon alloyed by a germanium, as alternative of competitiveness of power semiconductor devices.Metallurgy. Collection of scientific works of the Zaporizhzhya state engineering academy, iss. 2 (27). Zaporizhzhya, ZSEA, 2012,
pp. 124-131.
6. Bytkin, S., &Kritskaya, T. (2019). Effect of isovalent doping of Si by germanium on the impurity-defect complexes formation probability in the p+n structures base irradiated by α-particles. Journal of Surface Physics and Engineering, 3(2), 57-67. Retrieved from https://periodicals.karazin.ua/pse/article/view/13665
7. Bytkin, S., Kritskaya, T.Germanium-doped silicon (SiGe) as a material for the manufacture of power semiconductor devices resistant to secondary cosmic radiation. Bulletin of NTU "KhPI". Series: Electric machines and electromechanical energy conversion. – Kharkiv: NTU "KhPI", 2019, 20 (1345), 102–109, doi:10.20998/2409-9295.2019.20.14.
8. Bytkin, S., Kritskaya, T.Radiation sensitivity of the planar npn structures made on the isovalentlyalloyedby Germanium silicon (nSiGe). MODERN PROBLEMS OF METALLURGY. Scientific news. № 22 (2019). Pp. 13-21. Dnepr: NMetAU.
9. C.A. Londos, E. N. Sgourou, A. Chroneos, V. V. Emtsev. Carbon, oxygen and intrinsic defect interactions in germanium-doped silicon. Semicond. Sci. Technol. 26(2011) 105024 (7pp) [Электронныйресурс] Режимдоступа / Online at stacks.iop.org/SST/26/105024
10. Kritskaya, T.Modern tendencies of silicon for the devices of electronicsproduction: the monograph / Kritskaya, T.Zaporizhzhya State Engineering Academy. Zaporizhzhya: ZSIA, 2013. – 353 p.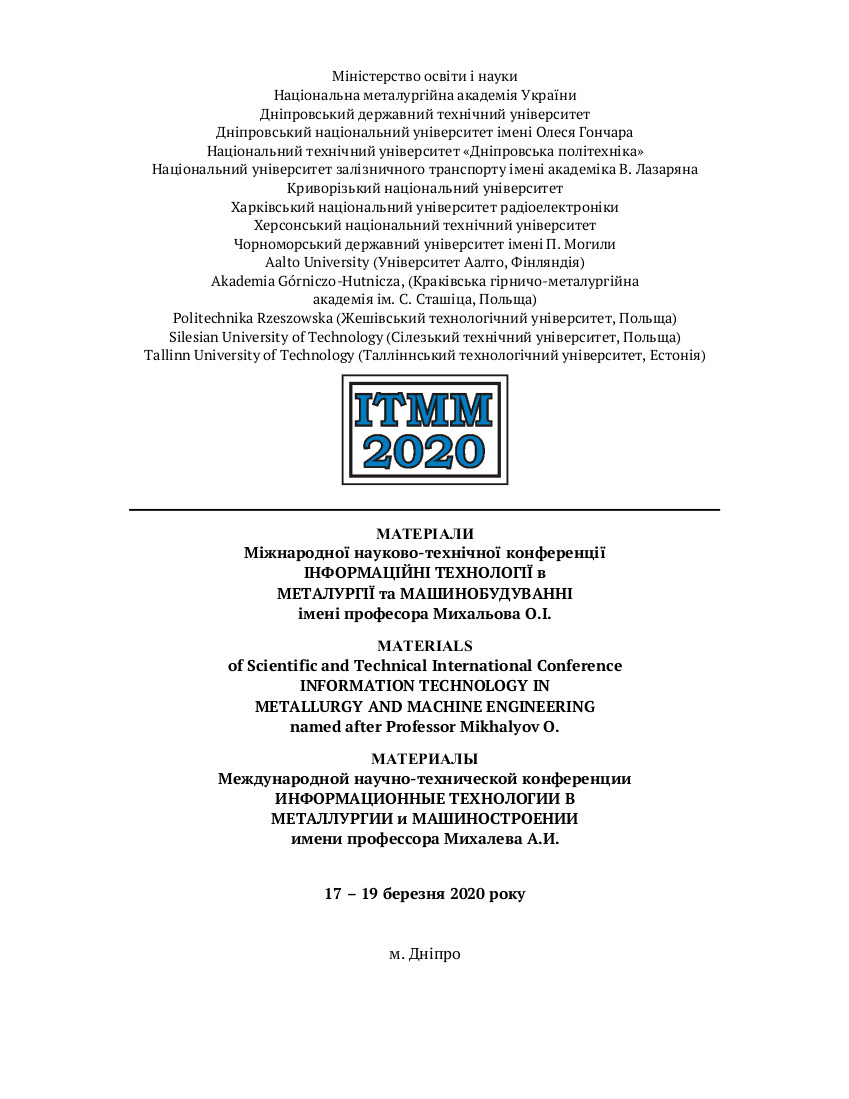 Downloads