ANALYTICAL MODELS OF AUSTENITE TRANSFORMATION IN STEEL WITH ALLOWANCE FOR INTERNAL STRESSES
Keywords:
AUSTENITE TRANSFORMATION, MARTENSITE, ANALYTICAL MODELS, INTERNAL STRESSES, HEAT TREATMENT
Abstract
The analysis of the presented works shows that mathematical modeling of austenite decomposition during heat treatment is possible using both ТТТ and ССT diagrams. Тhe effect of the stress-strain state arising in the process of heat treatment of parts on the kinetics of structural transformations is usually not taken into account. The experimental data accumulated to date do not reliably describe the effect of the stress state on structural transitions during the heat treatment of steels. A simple theoretical expression is proposed for calculating the amount of martensite formed as a function of the stress in the γ-phase. To reliably predict the structural state of steels during hot deformation and heat treatment, it is necessary to conduct a comprehensive study related to the experimental study of the effect of stresses on the transformations of all types and the creation of an adequate mathematical model of austenite decomposition based on the experimental data obtained, taking into account this effect.
References
A.N. Kolmogorov. Izvestiya AN SSSR. seriya matematicheskaya. 1937. №3. s. 355.
M. Avrami. Kinetics of phase change. I. General theory [J]. Journal of Chemical Physics. 1939. 7(12) P.1103-1112.
Fizicheskoye metallovedeniye: Per. s angl. T.2. Fazovyye prevrashcheniya / Pod red. R. Kana i P. Khaazena - M.: Metallurgiya. 1987. – 492s.
B.Ya. Lyubov. Kineticheskaya teoriya fazovykh prevrashcheniy. – M.: Metallurgiya.1969. – 264s.
Dzh. Kristian. Teoriya prevrashcheniy v metallakh i splavakh. Ch.1. Termodinamika i obshchaya kinetika. – M.: Mir. 1978. – 808s.
I.L. Mirkin. Issledovaniye evtektoidnoy kristallizatsii stali // Struktura i svoystva staley i splavov: sb. tr. Mosk. in-ta stali – M.: Oborongiz. 1941. – S.5-158.
Bobyr S.V.. Bolshakov V.I. Modeli i kharakteristiki preryvistogo prevrashcheniya austenita v zhelezouglerodistykh splavakh//Uspekhi fiziki metallov. 2014. T.15. S.123-150.
Bobyr S.V.. Bolshakov V.I. Analiz statsionarnogo evtektoidnogo prevrashcheniya v uglerodistoy stali na osnove polozheniy neravnovesnoy termodinamiki //Metallofizika i noveyshiye tekhnologii. 2016. t. 38. № 7. S.983-995.
Abramov V.V. Napryazheniya i deformatsii pri termicheskoy obrabotke stali. – K.: Vishcha shkola. 1985. – 133s.
R.K. Vafin. A.M. Pokrovskiy. V.G. Leshkovtsev. Prochnost termoobrabatyvayemykh prokatnykh valkov. – M.: Izd-vo MGTU im. N.E. Baumana. 2004. – 264s.
Morozov N.P. Proizvodstvo i ekspluatatsiya krupnykh opornykh valkov /N.P. Morozov. V.A. Nikolayev. V.P. Polukhin. A.M. Legun/ – M.: Metallurgiya. 1977. – 77s.
Wang Z-G., Inoue T. Analysis of temperature, structure and stress during queching // Journal of the Society Materials Science of Japan. – 1983. - №360 – P.991-1003.
V.E. Loshkarev. Matematicheskoye modelirovaniye protsessa zakalki s uchetom vliyaniya napryazheniy na strukturnyye prevrashcheniya v stali // MiTOM. 1986. - № 1. – S.86-69.
Khan S.A., Bhadeshia H.K.D.H. The bainite transformation in chemically heterogeneous 300M high-strenght steel // Met. Trans., 1990., Vol. 21a, P. 859-875.
Contribution des contraintes internes d'origine thermice dans le calcul de l'avancement des transformation de phase refroidissement continu d'un acier XC80 / S. Denis, C. Bas, F.M.B. Fernandes, A. Simon // Memoires et Etudes Scientifique Revue de Metallurgie. – 1986. – Vol. 83. - №10. – P.533-541.
Tanaka K., Sato Y. Analysis of super-plastic deformation during isothermal martensitic transformation // Res. Mechanica, - 1986. – Vol.17. - №3. – P.241-252.
Bhadeshia H.K.D.H. Some phase transformation in steel // Mater. Sci. and Technol., 1999, Vol. 15, P. 22-29.
Bobyr S.V. Non-equilibrium thermodynamic model austenitic non-diffusion transformation in iron-based alloys. / Machines. Technologies. Materials. International Scientific Journal, 2018., Is. 10, P.415-418.
Christian J.W. The Theory of Transformations in Metals and Alloys, 1st Edition, Pergamon Press, Oxford, UK, 2002.
Krot P.V., Bobyr S.V., Dedik M.O. Simulation of backup rolls quenching with experimental study of deep cryogenic treatment / Int. J. of Microstructure and Materials Properties, 2017, Vol.12, No.3/4. – Р. 259– 275.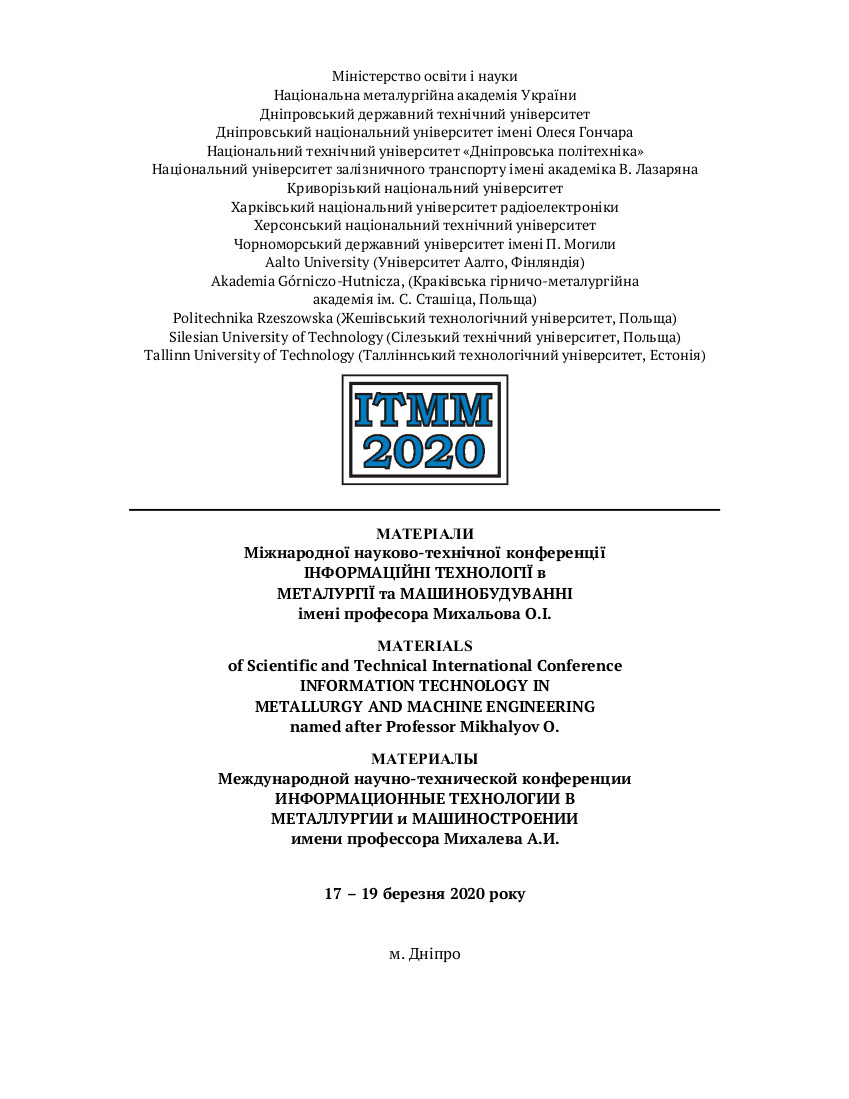 Downloads