Аnalytical study of the effect of A composite nozzle design on the thermodynamics of the processes at top blowing in ld-converter
Keywords:
OXYGEN CONVERTER PROCESS, TOP BLOWING, COMPOSITE RING NOZZLE, CHEMICAL PROCESSES, GIBBS ENERGY
Abstract
A complex of phenomena takes place in an oxygen-converter bath, among which the process of interaction of a gas stream of an oxidizing agent with a melt is the primary and determining factor in the passage of physical and chemical and heat-mass transfer processes during melting. In order to increase the degree of quality assimilation of oxygen by the melted bath, the use of a composite nozzle based on a coaxial annular is proposed. An analysis of the thermodynamic rate of reactions — the Gibbs energy for the conditions of use of the composite annular nozzle — has established the possibility of a more active course of all reactions occurring in the primary reaction zone. Especially reactions responsible for slag formation and the thermal state of the bath. The results obtained correspond to the effects previously established in physical and high-temperature experiments in comparison with the operation of a conventional four-nozzle tip: a deeper immersion of a gas stream in a liquid bath, active assimilation of lime, and an increase in the temperature of the sublance zone.
References
Boychenko, B. M., Okhotskiy, V.B., Harlashin, P.S. (2006) Konverternoe proizvodstvo stali: teoriia, tehnologiia, kachestvo stali, konstrukcii agregatov, recirculaciia materialov i ekologiia, Dnepropetrovsk: Dnepr-VAL, 454 p. [in Russian].
Bigeev, А. М. (1988) Metallurgiia stali, Moscow: Metallurgiia, 480 p. [in Russian].
Lukhtura, F. I. (2018) О stepeni usvoeniia kisloroda metallicheskoy vannoy pri verhnem vduve v LD-konvertere, Vіstnik Priazovskogo derzhavnogo tekhnіchnogo unіversitetu, iss. 36, P.39-53 [in Russian].
Semykin, S.I., Golub, T.S., Dudchenko, S.A., Vakulchuk, V.V. (2019) Issledovaniie osobennostey produvki cherez verhniuiu furmu, osnashennuiu sostavnym soplom na baze kolcevogo koaksialnogo sopla, Biuleten nauchno-tehnicheskoy informacii. Chernaia metallurgiia, vol. 75, iss. 11, P. 1258-1265 [in Russian].
Кazachkov, Ye.А. (1988) Raschety po teorii metallurgicheskih processov, Moscow: Metallurgiia, 288 p [in Russian].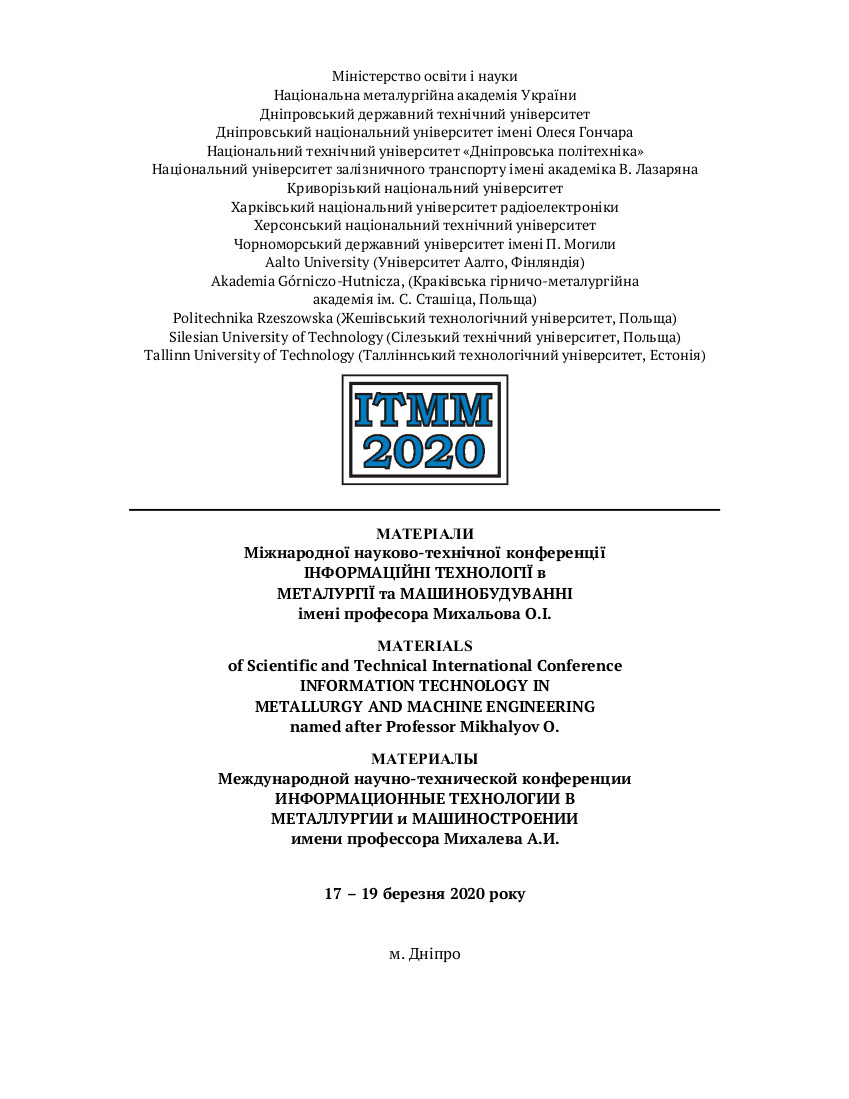 Downloads