Skin-rolling of hot-rolled extra-thin low-carbon steel sheets
Keywords:
low-carbon steel, sheet steel, skin-rolling, mechanical properties, etching
Abstract
Skin-rolling is the final operation of the technological process for the production of auto sheet steel. Tempering affects the quality of the metal surface, properties and stamping ability. Treading allows you to harden the surface of the rolled products and keep the inner layers undeformed. As a result, it is possible to prevent the formation of shear lines during stamping and provide an optimal combination of the mechanical characteristics of rolled products. On skin-rolling mills, the sheet is rolled to a predetermined thickness. Treading etched sheets provides them with a smoother surface. Benefits skin training are to increase the ability of the material to deep drawing and reduce energy costs during stamping.The use of skin-rolling will allow to produce high-quality rolled products in accordance with the requirements of standards. An analysis of the effect of skin-rolling on the quality indicators of low-carbon steel thin-rolled products for the automotive industry was carried out. The effect of skin-rolling on the structure and mechanical properties of hot-rolled extra-thin sheet metal from 08пс low-carbon steel was studied. The mechanical properties of the metal meet the requirements of ДСТУ 2834-94 for hot-rolled and cold-rolled steel. Annealing of extra-thin sheet steel from 08пс steel increases its plasticity compared to the hot-rolled state and contributes to the formation of a uniform metal structure in accordance with ДСТУ 2834-94. The choice of parameters and optimization of the skin-rolling process will prevent a decrease in the plasticity of the material, improve mechanical properties and improve the quality of extra-thin sheet steel.
References
Ivanchenko V. G., Frantsenyuk L. I., Smirnov P. N. Influence of the degree of deformation on the quality of strips during skin pass training // Steel. - 1997. - No. 8. - P. 41−44.
Prisyazhnoj A.V. Improving the process of tempering an automobile sheet in order to reduce ribbing: abstract of the dissertation: specialty 03.05.03 "Technologies and machines for pressure treatment." - Yekaterinburg, 2006. - 24 p.
Putnoki A. Yu., Tilik V. T., Shtehno O. N., Movshovich V. S., Ivanchenko V. G. Investigation of the technology of hot-rolled extra-thin sheet steel for cold stamping // Fundamental and applied problems of ferrous metallurgy. - Kiev: Naukova Dumka, 2001. - P. 193−197.
Panchenko V.S., Miroshnichenko S.A., Ivanchenko V.G., Merzhinskaya E.V. Training of hot-rolled extra-thin strips and sheets // Fundamental and applied problems of ferrous metallurgy. - Kiev: Naukova Dumka, 2014. - P. 196−205.
Alloy steels and alloys with special properties. Textbook / Kutsova V.Z., Kovzel M.A., Nosko O.A. - Dnepropetrovsk: NMetAU, 2008. - 348 p.
Sheet steel: Monograph / Yu. S. Proydak, V. Z. Kutsova, M. A. Kovzel, T. V. Kotova, G. P. Stetsenko / Dnipro: NMetAU, 2018. - 311 p. – ISBN 978-617-7696-51-2.
Yu.M. Koval, V.Z. Kutsova, T.V. Kotova, M.A. Kovzel Forecasting and controlling the structure and properties of ultra-low-carbon steels / Metallophysics and Advanced Technologies, 2021 – vol. 43, р.р. 753-768. – ISSN1024-1809 (Print) E-ISSN: 2617-1511 (Online).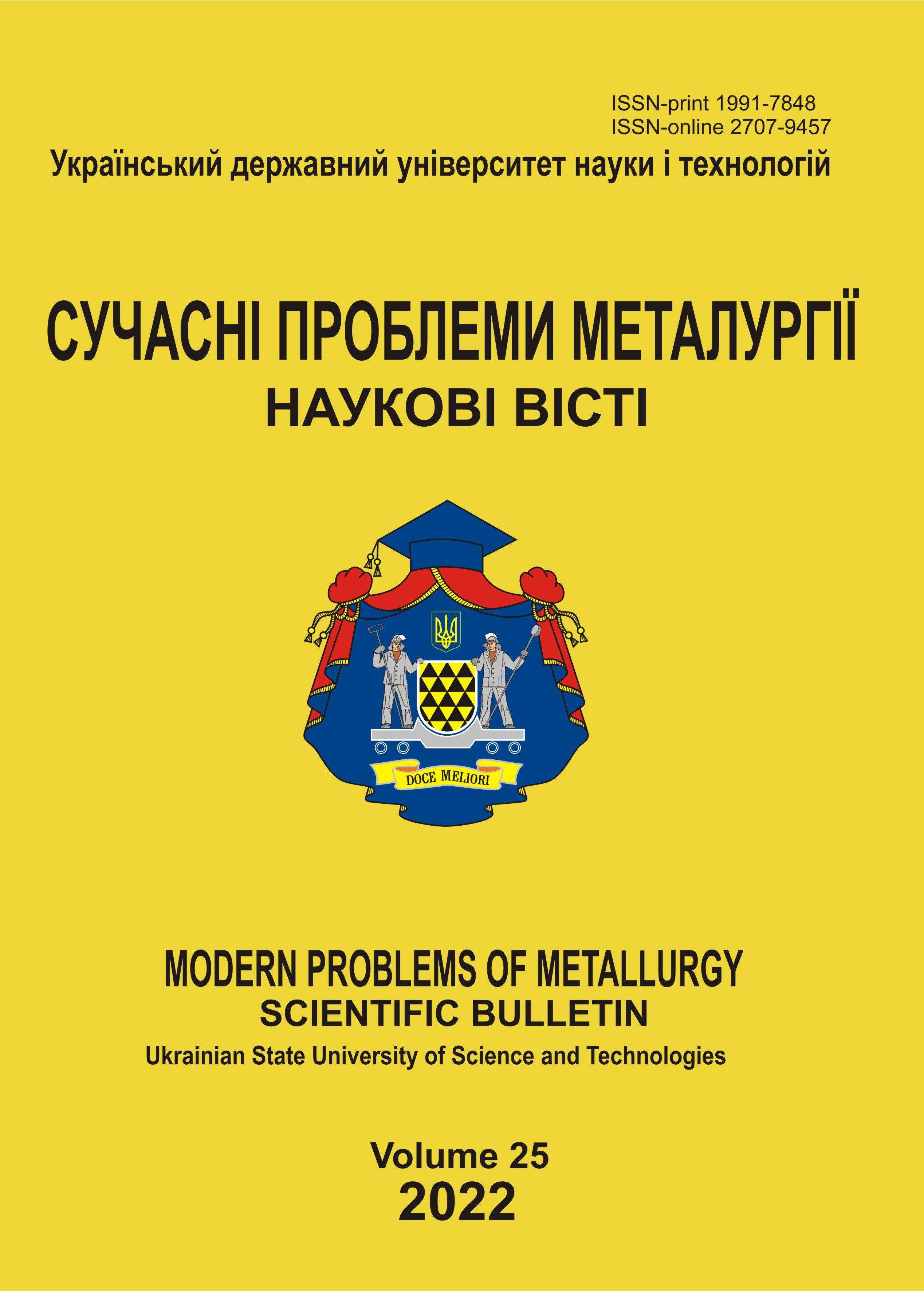 License
This work is licensed under a Creative Commons Attribution 4.0 International License.